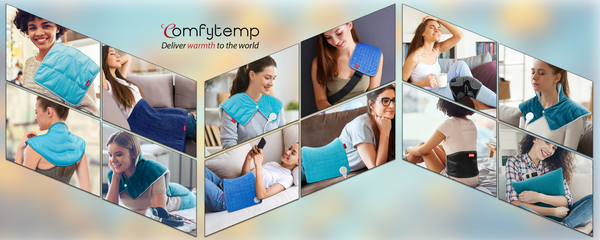 Comfytemp focuses on heated therapy products and aims to deliver warmth to the world. Our products are made of high-quality materials and the latest technology to bring you an unprecedented relaxing experience.

It started with tiny thought and then we created our first heating pad. We progressed to producing a whole line of heating products, all while making a lot of research as we set up our factory and experienced a series of product upgrades. We now have heating pads for the neck, shoulder, back, and the whole body, and we will have heating pads for cars, for the pet, for home, and so on in the future…

To bring you health, comfort, and warmth, we are professional and diligent. Delivering warmth to the world is our ultimate goal! Warmly invite you to witness our progress and growth together!
What can we do for you?
* 30 Days Free Return
* 365Days Warranty
* 24-hour Quick Free customer support
Please contact us in time if you have any questions. And you will receive a response within 24 hours.
Contact Us
Email: help@comfytemp.com
Telephone numbers: +1(833) 990 0618